Concrete floors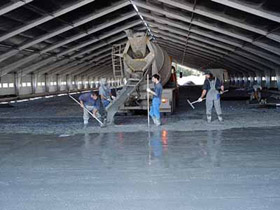 The main product of the company Dolux SK Ltd.,is the fabrication of machine-glazed reinforced concrete floors, which create most of the company's production. The durability of industrial floors is one of the decisive criterions of the quality; others are ductility and sturdiness of the floor finish, and its' interconnection with the bearing concrete slab. The system of reinfroced concrete floors with special pour-in technology perfectly fills these requirements. This system is based on the monolithic interconnection of the concrete slab and extremely resistant floor finish of the size 3-5mm. The pour-in material is a factory premixed powder mixture of quality Portland concrete, indurate fillers on the base of clinker carbides, or non-oxidizing metals, pigments and other compatible additives and admixtures. Machine-poured into fresh concrete they create particularly resistant floor finish, which is after lapping treated with tightening and hardening acryl asphalt coating. The penetration of the floor surface with acryl asphalt provides also long lasting dust-freeness.
Company´s programm
machine-glazed concretes
industrial reinforced floors
epoxy floors
pour-in self leveling floors
reinforced Concrete
We offer
Professional design and realization of all kinds of industrial floors
Repair and reconstruction of concrete floors

Company Dolux SK Ltd., was founded in 1998 and is settled in Spišská Nová Ves. The intention of the ...

Because of its' specification, the bearing concrete slab must be determined by the designers' layout, based ...

The main product of the company is the fabrication of machine-glazed reinforced concrete floors, which ...

Global trends in building industry are characterized by constantly increasing demands of the customers...

Social and sporting events of company Dolux SK Ltd.hockey tournaments Dolux Cup and others...